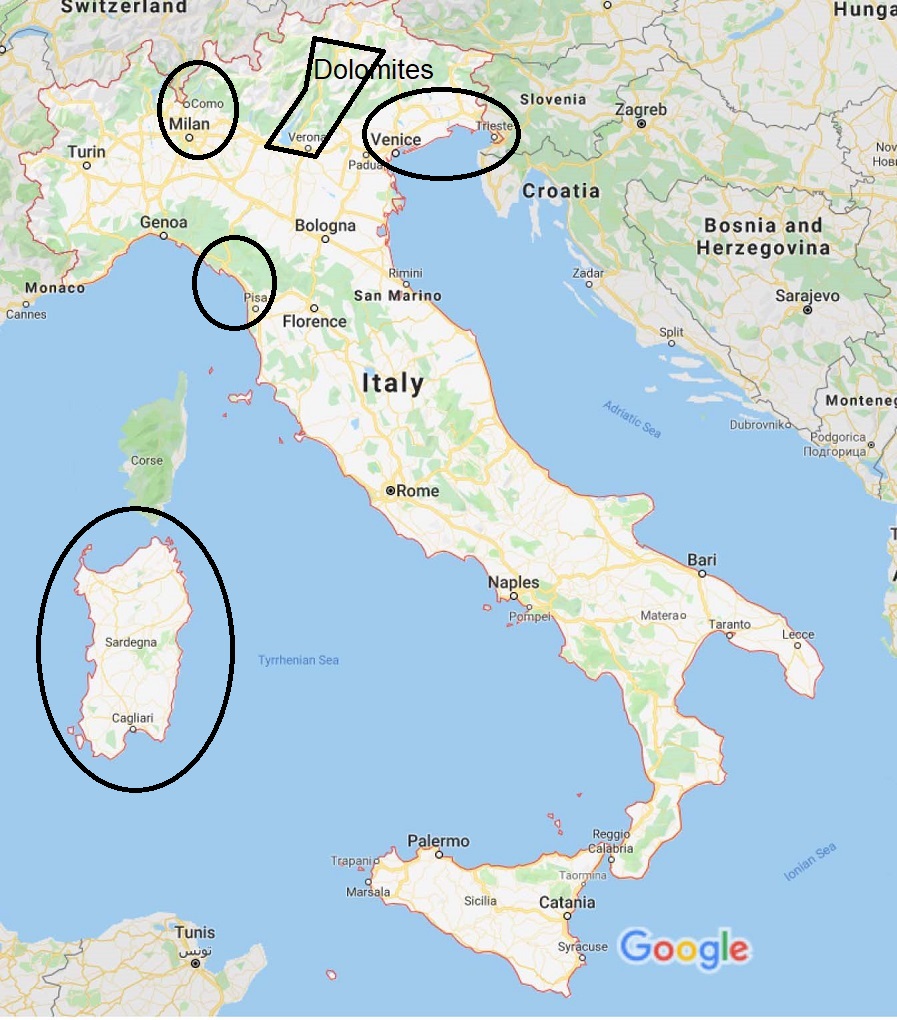 Lake Como   Saronno  Milan  June 2017
Venice and north-east Italy  September 2016
Cinque Terre and Riviera di Levante     Pisa  April 2015
Lake Garda  Bolzano  Val Gardena – Dolomites  Verona  June 2014
Italy Travel tips:
Tourist offices are generous with their maps and information. Some English info may be out for you to pick up, city centre maps are often on the desk, but if you talk to them, they may have better info and maps.
Check opening times of places that you really want to go into – museums are often closed on Mondays, and in smaller towns buildings may be closed between 1pm and 3pm.
Using  public transport in Italy
Travel in Italy is relatively cheap, so don't rush into a travel pass unless you know it will save you money.
Buy bus tickets at the bus station or at the nearest Tabbacchi (tobacconist and newsagent) in advance – you often cannot pay the driver and even if you can it will cost more. Bus tickets are not dated, so we buy our outward and return tickets at least the day before. You have to stamp them in the machine as you get on the bus. Bus tickets are for a length of time/distance, and don't vary with time of day. City buses have electronic signs at bus stops and on the bus. In some cities they have electronic cards instead of tickets. Out of town bus drivers are helpful, so you can ask them to tell you when you reach your stop (they may not speak English, but will probably understand what you want if you ask nicely). Buses may get stuck in traffic if you are in a busy area, so be patient. Although weekly and daily passes may be listed on the website, we could not always buy them. Travel on buses is easy with a smart phone or tablet and GPS – follow the route on Google maps or the Moovit App, so you can easily see were to get off.
Train travel is great, and easy. Trains generally run on time. Train tickets can usually be bought at a ticket machine and you choose your language. Prices vary with type of train, so look at times earlier or later to see which is cheaper. You have to buy a ticket for a specific day, but you can buy in advance. You state the time too, so if you change your mind, make sure the journey you do is the same price on the same day.